Artificial Intelligence (AI) Master
Artificial intelligence (AI) is the central principle for the disruptive changes of the digital transformation – in industry, the public sector and our society. AI is the driving force in today's systems development and process innovation. To be an active part of this change, you want to fully understand the key principles and techniques forming AI.
Our Master Programme in Artificial Intelligence is designed to give you as a professional from computer science or another technical discipline the opportunity to specialize in AI to meet the increasing demand for experts in this exciting, inspiring and rapidly growing field.
The AI Master distance learning programme will challenge your thinking and give you everything you need to put your knowledge into practice. Our AI Master's programme empowers you to shape this emerging field and bring your ideas to life.
Do you have professional experience in computer science or another technical discipline?
Then specialise in AI with our online master's degree alongside your job. There are currently no student fees for this degree programme.
| | |
| --- | --- |
| University | University of Lübeck (Germany) |
| Academic course | Artificial Intelligence |
| Degree | Master of Science |
| Type of study | Part-time / extra occupational / distance learning |
| Duration | 6 terms |
| Teaching language | English |
| Credit points | 120 ECTS |
| Tuition fees | None * |
| Start date | 16.10.2023 |
| Application deadline | 15.07.2023 |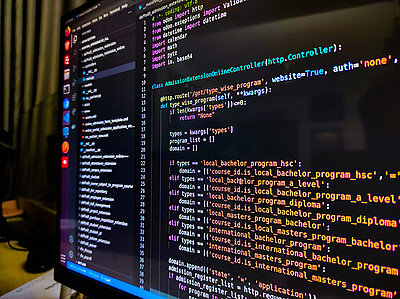 Requirements for the AI Master:
For the Master in AI, software development skills as acquired in at least one year of professional practice in a computer science-related environment and a Bachelor's degree in computer science or a related subject are required.